Welcome
You have found the home page of A-Plus Lock
Service; a fully mobile, Winnipeg based locksmith.
Within the pages of this site, you will learn: when it
comes to locks, keys and locksmith services in
general, our commitment to providing the best
possible value and the highest quality workmanship
cannot be beat!
For your piece of mind: our service vehicle is clearly
identified as A-Plus Lock Service, our staff wear
uniforms with the A-Plus Lock Service name clearly
marked, we are bonded, fully insured and registered
with Canada Revenue Agency, Manitoba Minister of
Finance and Safe Work Manitoba (WCB).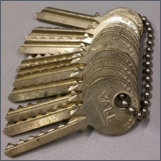 How can a locksmith
help you?
A professional locksmith is
often called for help after
something has gone wrong: a
key has gotten lost or fallen
into the wrong hands, your
keys have been locked inside
your car, home or office, or
someone has broken into your
property.
Yes, we can certainly rekey
your locks, open your door
without causing any damage
or repair your door and lock
after a break-in, but there is so
much more we can offer!

Educate and inform
Our locksmith will educate and inform you about
different grades of locks and hardware that may be
appropriate for your property. This can save you
from the pitfalls of buying something from the big
box stores that may compromise your security or
leave you stranded.
Evaluate and identify
Many "lock problems" are simply maintenance
issues or a poorly cut key. Our locksmith will quickly
be able to evaluate your situation and identify the
most cost effective solution; often saving you from
costly replacements while restoring your piece of
mind.
It's all in the details
After years of experience and with an eye for detail;
our locksmith can often suggest many small
changes that can be made to improve the security of
your property and increase the lifespan of your
locks.
A-Plus Lock Service is
THE

solution to all of your
lock & key issues!